An Unremarkable Woman
She was an unremarkable woman--
actually rather plain--
sadly the kind who grew
handsomer as she aged.
But at thirty-one, with two children
she was not the kind men looked at.
In fact, if men were kind,
she was the sort they pitied
for they knew
she went home nightly,
cared for children,
and slept alone for the next four decades.
Robust hands toiled to keep the family together.
Sometimes two jobs put food on the table
and heat in the furnace.
At other times she learned new skills
that took her from washing
other people's dirty clothes
to keeping track of their public sins in county offices.
Two daughters survived
times of deprivation without ever knowing
the desperation around them.
The body wore as the years extracted their pay.
From the health of middle age she dwindled
to the fragility of wisdom.
Three generations of daughters
joined together to form
a protective circle.
They feared to caress brittle veins
and watched as life crumbled,
crushed by a whisper.
© 1999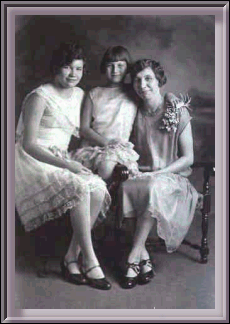 Poems in Family Album:
The Desk
An Unremarkable Woman
Growing Pains
Affirmations
Sometimes It Takes Decades to Say Love
Some People Just Cannot Nurture Growing Things
My Sister's Daughter
Brother
Return to Family Album