Some People Just Cannot Nurture Growing Things
Potted plants and blooming window boxes
grace my friends' homes
but, when it comes to talking
about spirea, cymbidium,
and philodendron
I feel grossly inadequate.
You see,
I killed the cactus.
Wandering jew and air plant
were given as house warming gifts,
I tried to warn friend and foe,
but still they insisted
upon inflicting untoward hardship
on the poor Boston fern.
You see, I told them,
I killed the cactus.
Some friends have finally learned,
though some still try to teach me,
I can care for cats and dogs
and them content for weeks
but, like Lewis said
when he started to ask,
"No, Mom will take the plants,
you take the dogs.
You see, you're the one
who killed the cactus."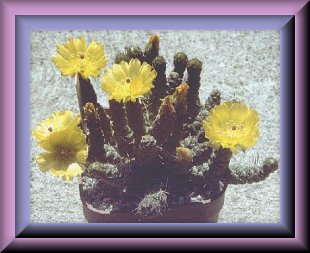 Poems in Family Album:
The Desk
An Unremarkable Woman
Growing Pains
Affirmations
Sometimes It Takes Decades to Say Love
Some People Just Cannot Nurture Growing Things
My Sister's Daughter
Brother
Return to Family Album