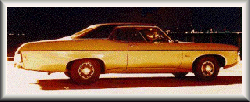 ęSteve G - used with permission
Two hundred and forty horses
push the blue-green indicator
closer to the last number on the dial.
Almost sexual vibrations overtake
the vehicle as it splits
the silence of the road,
tires singing the melody of speed.
At times you are no longer on the planet
no contact with living beings,
passing the night encapsulated
isolated, insulated
and holding sway over 2200 pounds of steel.
Caressed only the the sounds
of Boyz II Men,
you sink into the leather-clad lap,
luxuriate in the butter softness
that wraps you, enfolding like a lover.